DOGGY DAYCARE - DOG TRAINING - HOME BOARDING
Making Sure Your Love Is ALWAYS With Them
Bright Eyes Doggy Day Care & Dog Training Cheltenham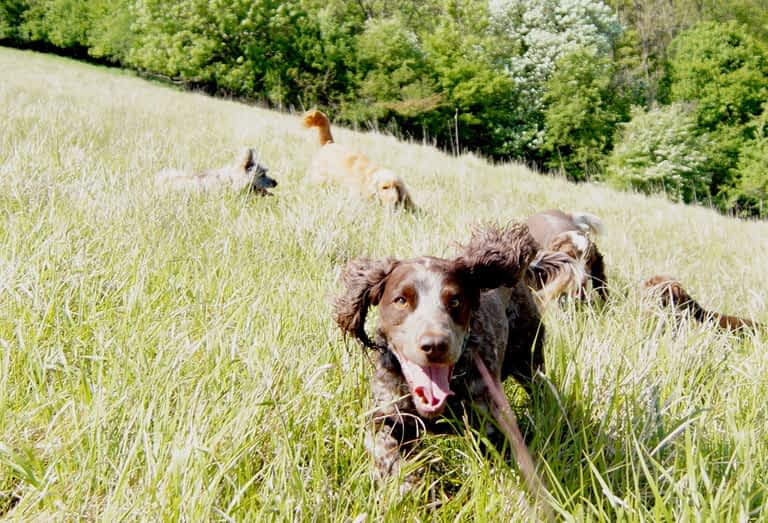 Bright Eyes Dog Care provides Doggy Day Care, Home Boarding and Dog Training filled with love, fun and care. For our Doggy Day Care and Home Boarding we specialise in smaller dogs (Spaniels to Chihuahuas and everything in between!) and are experienced with dogs of all ages and needs – with free collections and returns covering the whole of Cheltenham.
We guarantee your dog's welfare will be at the heart of everything we do – you'll be able to see the proof yourself in their eyes!
"Busby just loves Chris & Becs. They treat him like he's one of the family. Always there to help when needed. Can't recommend them enough."
"Absolutely fantastic! Can't recommend Chris & Becs enough. They are lovely people who are enthusiastic and extremely helpful when it comes to our dog."
"Chris and Becs were fab with Dylan and always incredibly professional. They would upload photos throughout the day and I was never concerned about leaving Dylan with them, even overnight! I would highly recommend!"
"Our little rescue dog George was super nervous when we first got him but after his first visit to Bright Eyes he would dance with delight every time Chris came to pick him up. Bright Eyes are amazing and we are very grateful to have found them!"
"Chris & Becs are like guardian angel dog carers! As soon as we pull on the drive teddy is desperate to get inside and he always leaves happy content and tired! We feel so lucky to have found them. Amazing."
"I am so pleased to have found Chris and Becs. Nellie absolutely loves being with them and has such a wonderful time. Thank you both, you do an amazing job!"
"Thank you so much for taking such good care of Daisy and Doodles, I think they loved their holiday so much they would have liked to have stayed longer!"
"Feel very blessed to have found Chris and Becs. With Chris' patience and love of dogs he has helped Sammy so much. Sammy absolutely loves them both and he comes back exhausted. Thank you both for coming into Sammy's life."
"Hugo and Amber love their days at Doggy day care. Such a joy to watch the videos of them playing with their friends. Chris and Becs you do an amazing job. Thank you for taking such good care of Hugo and Amber. Would highly recommend."
"Buster absolutely loves his time at Bright Eyes. Every morning he will sit and wait by the door ready for Chris and Becs to collect him for another fun filled day. They are brilliant with Buster. So lucky to have found them."
What Makes Those Bright Eyes?
For every second your dog is with us for Dog Day Care, Dog Training or Home Boarding, they will be surrounded by love, fun and care.

Here are some of the things that make those Bright Eyes!
Walks
All our walks are selected to provide an ideal mix of exercise and stimulation, in a totally natural and safe environment. With us, every day is a different adventure!
Playtime
All the playtime they could want with us and their friends! Plus agility lessons, scent training and other fun, stimulating activities to keep even the busiest minds happy.
Cuddles
There is always at least one of with them at all times to make sure even the biggest cuddle monsters get all the attention and fuss they could possibly want!
Best Friends
All our regulars have their own set days each week, which means every day is full of doggy best friends. So, they'll never be far from a playmate or a nap buddy!
Our 5 Star Doggy Day Care Rating
We are proud to hold a maximum 5 star rating for our Doggy Day Care and Home Boarding from Cheltenham Borough Council (license number 21/01441/AWREGS), so you can rest assured that our expertise, home environment and the doggy activities we offer are of the absolute highest standard.
But you don't need to see our 5 star license to know that, just look at the happy faces and tails of our furry friends!